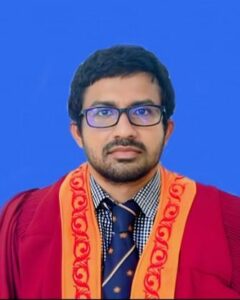 Qualifications
Academic Qualifications
PhD in Biochemistry & Molecular Biophysics – Kansas State University (USA), Department of Biochemistry and Molecular Biophysics
Thesis- Bacterial AAA+ Disaggregase ClpB: Mechanism and inhibition ( Supervisor, Professor Michal Zolkiewski).
https://krex.k-state.edu/dspace/handle/2097/41435
MSc in Molecular Medical Microbiology- University of East London
BSc (Hons) in Biomedical Science- University of East London
Chartered Institute of Environmental Health (CIEH) UK Level 4 Merit certificate holder in Health and Safety at the workplace.
Professional Qualifications
Probationary Lecturer at the Faculty of Allied Health Sciences (Medical Laboratory Sciences Department), General Sir John Kotelawala Defence University Sri Lanka.
February 2013- to present date
Laboratory and Workshop Demonstrator for Undergraduate students, in the field of Bioscience at University of East London. October 2011- February 2013.
Research & Publications
Awards
Working Experience
Memberships